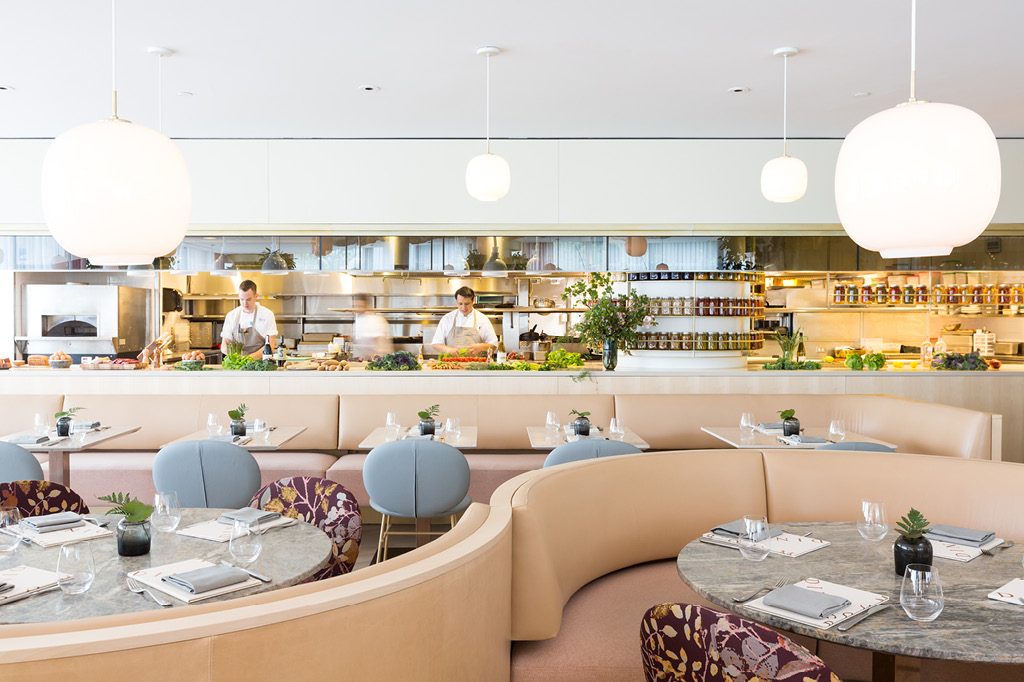 Insight Magazine
/ Wild Out West
While upgrading or redesigning a restaurant in an established hotel is nothing new in the world of luxury resort properties, not all efforts are deemed equal. And most certainly, not all are successful.
Vancouver's Fairmont Pacific Rim blew the dust off an iconic hotel brand that is known and loved for its historic, often grande dame- esque global properties, when it opened its doors back in 2010 with a decidedly modern décor and vibe that made sense in the city's downtown Coal Harbour neighbourhood. The hotel's new restaurant Botanist opened in April 2017, replacing Oru, and the impressive transformation is far more than a name change, some new furniture and a coat of paint.
Already recognized as one of Canada's best restaurants, Botanist elevates the concept of Pacific Northwest cuisine by reaching far beyond the food and into the world of design, décor and cocktails. The entire experience is carefully curated by a team who clearly love what they do.
Under the direction of Vancouver-based, award-winning design and branding gurus Ste. Marie Design and Glasfurd & Walker, Botanist consists of four unique, memorable spaces — a champagne lounge, a cocktail bar with glassed-in lab, a garden and a dining room — all paying homage to B.C.'s fertile and diverse agricultural region.
The already-popular Lobby Lounge, an established go-to for the swish cocktail crowd, is your view from the second-floor Champagne Lounge. Start the evening right by sipping a glass of vintage bubble, accompanied by a nibble of caviar or freshly shucked local oysters, while luxuriating, surrounded by walls of glass and lush plantings of greenery indigenous to British Columbia.
Those jonesing for something more spirited can slip into the Cocktail Bar with its dark, sophisticated palette of Italian terrazzo and sexy curved glass. Sample one of the concoctions of award-winning mixologist David Wolowidnyk, Botanist's head bartender. Adventure seekers can head to the Cocktail Lab and its mad-scientist array of "bar tools" — centrifuge, band saw and roto-vaporizer. Try the dramatic Deep Cove cocktail — a blend of local Island Gin, sea buckthorn and blue algae from the Pacific Ocean, served in an artisan glass moulded onto a driftwood log.
Prefer a more Zen experience? Kick back in The Garden, a life size terrarium surrounded by about 50 different plant species including green tea camellia, cardamom and ginger. All this living green is surely food for the soul.
The grand finale takes place in the Dining Room, with its soothing palette of limestone, whitewashed wood and metal work. Here, the botanical theme is carried throughout from the tactile menus to the polished but still slightly roughhewn dinnerware created by local artists and potters. Eli Canter of New York-based Lady and Butler Collections was tapped to design custom uniforms for the staff to complement each room. It's the fine attention to detail, such as the 50's inspired (but done in neoprene) dresses sported by the women and earth-toned shirts with bowties and leather suspenders for the men, that enhance the experience.
Adding to the sensory stimulation is the grand piano — custom-designed for Botanist by master craftsman and pianist Paolo Fazioli — providing live neo-soul funk and contemporary jazz Wednesday through Saturday.
Botanist being a restaurant, after all, the food shouldn't be outdone by the music and décor, but thanks to executive chef Hector Laguna, this isn't an issue. Laguna created a menu based on the bounty of the Pacific Northwest with regionally and sustainably sourced, often organic ingredients, with an emphasis on fresh vegetables.
Laguna grew up spending much time in the kitchen of his family's home in the Mexican state of Hidalgo, north of Mexico City, learning from his mother and grandmother. He honed his craft in food-centric cities, including San Francisco and Miami, with stints at Susur Lee restaurant in Toronto in 2011 and at Vancouver's highly acclaimed Hawksworth Restaurant as sous-chef before taking the helm at Botanist.
His dishes are almost too pretty to eat. Beautifully arranged plates burst with colour, texture, fragrance and taste, with nods to his Mexican roots on occasion, like his mother's recipe for charred octopus with chorizo dressing that's fast becoming a cult fave for repeat visitors. Signature plates include oven- roasted local halibut with spring vegetables and crab emulsion, and herb-crusted lamb rack with green garlic panisse, fava and shallots. "I believe that food influences us emotionally," Laguna notes. "It can comfort, calm, satisfy and bring joy, all in one meal."
Complementing the food is the boutique terroir-driven wine program of wine director Jill Spoor, which supports sustainable, organic and biodynamic farming and winemaking practices. The youthful sommeliers who guide you in pairing wines with your meal are charming and enthusiastic, but don't let their fresh faces fool you; they're the real deal.
With the team at Botanist, the Fairmont Pacific Rim has found the ideal brand ambassadors who share the hotel's quality and service ethos. Chef Laguna sums it up succinctly. "It's about watching someone take their first bite, and [knowing] we've made their day even a little bit better."