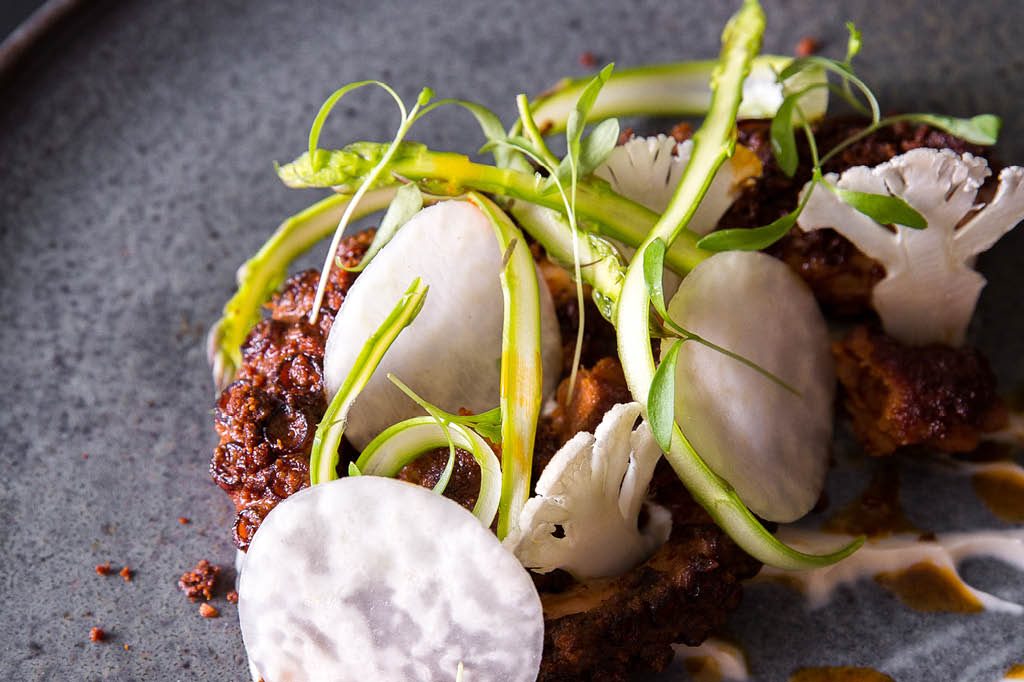 Supper Magazine
/ it's all about the details
Occupying a 48-storey James Cheng-designed tower along prime waterfront real estate in Downtown Vancouver, the Fairmont Pacific Rim is, arguably, the slickest hotel in the city – not least for its heaving lobby that has become a local hotspot to see and be seen. It's hardly a surprise though, considering its owner is Westbank, a local property development company, whose projects – spanning residential, commercial, hospitality and public art – have played a significant role in defining Vancouver's skyline. Known for its progressive approach towards creating a city for the people, its line-up of upcoming ventures includes the permanent adoption of Unzipped Wall, the installation designed by Danish architect Bjarke Ingels for London's Serpentine Pavilion last year; and a new curvilinear building by Japanese architect Kengo Kuma, due to open in 2020. Its latest pursuit targets the local dining scene, with the re-launch of the Fairmont Pacific Rim's restaurant.
Aiming to draw the public in with an accessible destination, Westbank has wisely tasked the king of restaurant cool, Craig Stanghetta and his design studio Ste. Marie for the job. The man behind some of Vancouver's most fashionable dining rooms, including Kissa Tanto – a sexy Japanese-Italian joint that has recently been crowned Best New Restaurant by the country's definitive culinary guide, Canada's 100 Best – Stanghetta has, for his first hotel project, given the space the full Ste. Marie treatment, which not only includes the design, but the entire concept development and strategy. "It's important to open a restaurant that resonates with the market," explains Stanghetta. " So we corral the management team, we get consultants to look at the positioning strategy and the narrative for the restaurant and then we develop the idea from there, bringing the right people in as necessary."
The result, which now also includes an intimate champagne bar and Vancouver's first cocktail lab, takes its cues from its location: fresh, clean and wholesome, with a good dose of Stanghetta's strong modernist sensibility. "It's a reinvention of the Pacific Northwest," he says. As such, the bar is swathed in grey, monolithic terrazzo, reminiscent – as Stanghetta points out – of Vancouver's rocky, mountainous landscape. In contrast, the restaurant, inspired by the region's lush tree-filled greenery, has a horticultural bent with lots of florals, in muted pastel hues and an abundance of live plants. "Wherever you are in Vancouver, the horizon provides a backdrop of mountainous rock and trees," says Stanghetta. "There's a trend for colour-blocking at the moment, so our version was to create something a little more nuanced and transitional within each space and, on a grander scale, 'block' the actual areas by creating this distinct binary look."
The concept extends to the food, which, like the interiors, is also fresh, clean and wholesome. "It was the design of the space that got me interested," says Mexico-born chef Hector Laguna. "When they approached me, they said they needed food to match the interiors. The look of the restaurant is exactly my way of seeing food, so it was an easy decision." Previously the sous chef at celebrity cook David Hawksworth's restaurant in the Rosewood Hotel, this is Laguna's first solo gig. It is
clear he has embraced a similar honest and simple philosophy for his food, using seasonal, locally sourced B.C ingredients to whip up pretty modern Canadian plates, such as the charred octopus with asparagus, cauliflower, kohlrabi and spicy chorizo; or delicious hand-cut tagliatelle with morels, mushroom 'soil' and salty crispy Piave cheese.
The cocktails, meanwhile, are the vision of Creative Beverage Director, Grant Sceney, who has literally cooked up a series of nature-inspired chemist-like libations from a show laboratory, that is decked out with state-of-the-art industrial kitchen equipment such as a rotary evaporator for distilling and vacuuming, and centrifuges to separate ingredients of different density. No doubt, delivered to a chorus of 'ooohs and aaahs', guests can expect whimsical tipples with names such as Candy Cap Magic – a vermouth, mushroom rye and spiced maple concoction – served in a gold-framed vitrine complete with a bed of moss and a whiff of smoke for added drama. Needless to say – and as Stanghetta frequently reiterates – it's all about the details.
Local brand identity outfit Glasfurd & Walker are the brains behind the restaurant's stylised logo, inspired by its mezzanine location at the top of the hotel's lobby stairs; Laguna's skilful plating is
helped along by earthy dinnerware from ceramic artists Jane Herold and Amber Kendrick; and a line-up of presentable staff are styled in custommade outfits, such as fashionable one-piece jumpsuits or voluminous neoprene skirts, by Eli Canter of New York-based uniform company Lady and Butler. What was once a staid, run-of-the-mill hotel restaurant has been transformed into a humming destination from the time the first plate of smashed avocado and eggs is served in the morning, to the final nightcap in the evening. This is surely down to Westbank's smart, progressive thinking and, as Stanghetta and Laguna both remark, the company's support and trusting attitude. It's no secret that the success of a hotel is not determined by the sales of its rooms anymore. And while Vancouver might have some of the best independent restaurants available, up until now, the city's hotel F&B options were lagging. Up next, Westbank and Stanghetta join forces once again, this time for the overhaul of the Shangri-La Hotel's restaurant. Watch this space.