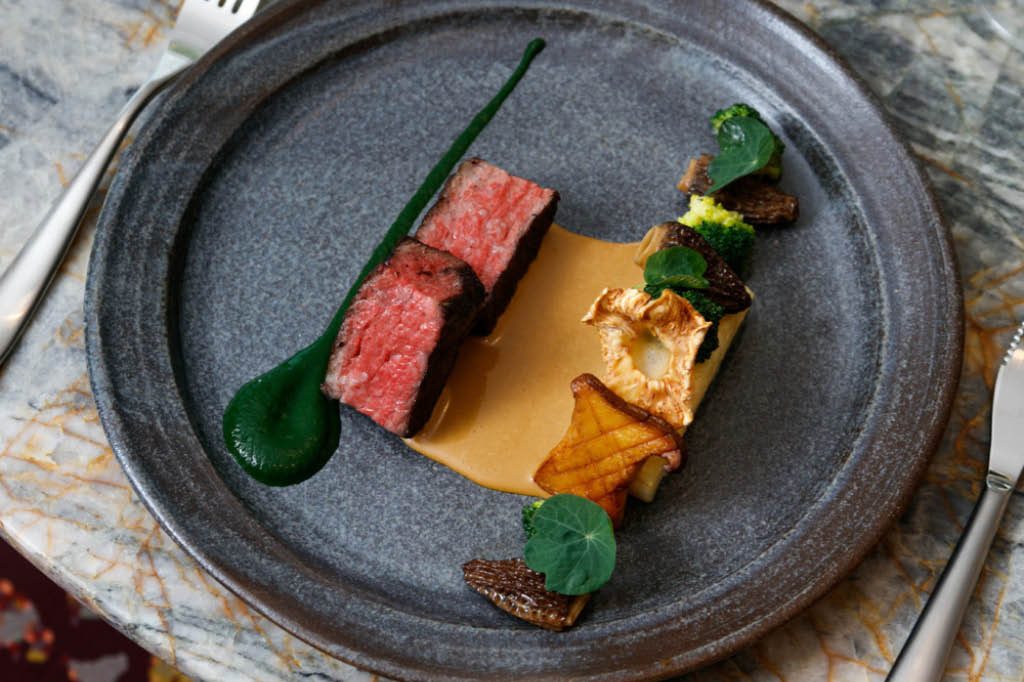 Trendland
/ Restaurant Review
Botanist is the newest addition to Canada's vibrant culinary scene, inspired by the principles of botany. Designed by award-winning agencies Ste Marie Design and Glasfurd & Walker, the space has been layered with the elements of a destination abundant in natural beauty, featuring a cocktail bar and lab, outdoor terrace garden, vibrant dining room and Champagne Lounge.
Executive Chef Hector Laguna's menu depicts the culinary abundance of the region – produce rooted from the soil of the northwest, sustainably sourced seafood; and organic agricultural methods from backyard suppliers. Signature items include root vegetables, oven-roasted halibut with spring vegetables and crab emulsion, and herb crusted lamb rack with green garlic panisse, fava and shallots. The menu is accompanied by wine director Jill Spoor's boutique terroir-driven wine program that supports sustainable, organic and biodynamic farming and winemaking practices.
Designed by award-winning Ste. Marie Design with brand and identity developed by Glasfurd & Walker, the collection of venues begins with the Champagne Lounge. Overlooking The Lobby Lounge on the second floor, it's surrounded by glass and planters filled with greenery indigenous to British Columbia. The Champagne Lounge is open daily from 4:00pm and offers global sparkling wines and exclusive and rare offerings from both Champagne and internationally, complemented by a menu of small plates including oysters, caviar, seasonal crudités, and local artisanal cheese platters.
In contrast the Cocktail Bar, with a dark palette of Italian Terrazzo and dramatic curved glass, is dedicated to the creative science of cocktails. Led by Grant Sceney, the hotel's creative beverage director, and David Wolowidnyk, Botanist head bartender, the international award-winning duo created a list of whimsical yet sophisticated cocktails. The elevated beverage experience is enhanced by the Cocktail Lab with commercial kitchen elements such as a centrifuge, band saw, and roto-vaporizer. Select libations give a nod to its chemistry inspired roots and botanical background. The Deep Cove for example uses Island Gin, sea buckthorn, and blue algae and is served in a bespoke glass molded onto a log of driftwood.
The adjacent Garden invites guests to linger in a glass-walled space filled with greenery, a trellis and more than 50 different types of plant species that include rare fruit bushes, and edible species such as green tea camellia, cardamom and ginger.
The sensory experience culminates in the Dining Room, a place intended to be active and engaging morning to night. A mixture of various limestone, whitewashed woods and ornate metalwork sets its foundation with pops of plant material found throughout. The layout invites guests to engage with one another, best illustrated by a series of tables that connect via a flowing 'S' curve banquette. The private dining room, with seating for 20 maintains interplay with the main room through its glass doors.