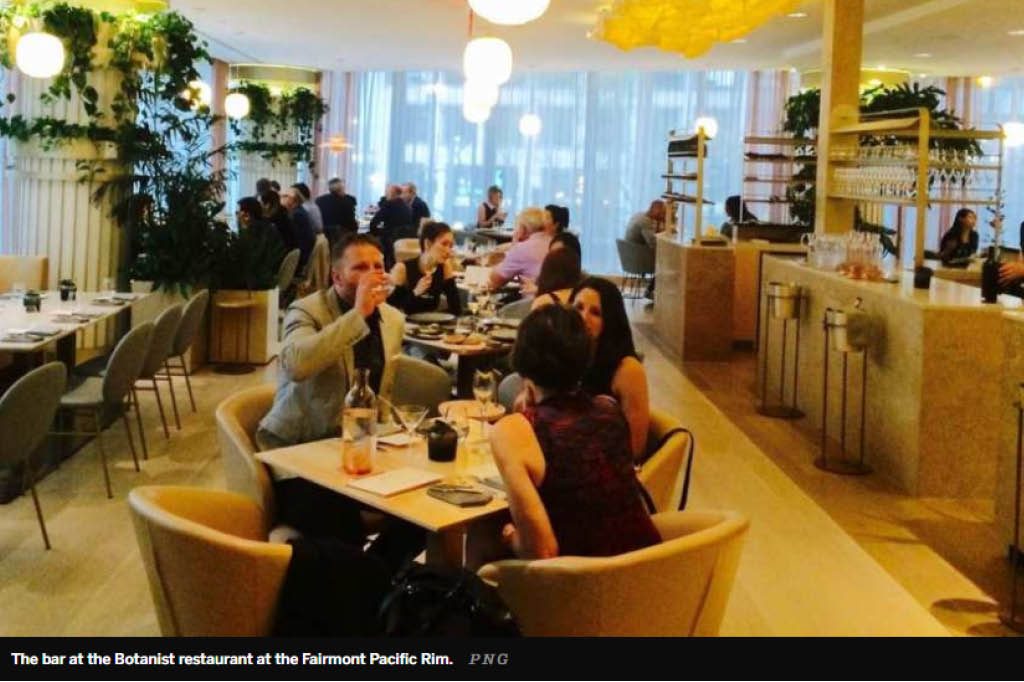 Vancouver Sun
/ Restaurant review
I've got a case of fine-dining amnesia. I can't remember the last time I wined and dined in beguiling elegance. I've grown accustomed to interesting down-market restaurants and I like them except for that crapshoot of first-come, first-serve.
I'd forgotten what it's like to be fussed over (or to pay $30 and into the $40s for an entrée). Imagine my delight when I had dinner at Botanist, which recently replaced Oru at the Fairmont Pacific Rim Hotel and was greeted very cheerfully and felt more than welcomed. There's enough staff for this unusual, attentive behaviour. (Later, just as we noted our bread crumbs on the table and wondered if they'd notice, someone swooped in.)
The renovated room has transformed into a sensuous and curvaceous space, softening the harder minimalist edges of Oru, the previous incarnation. While there's been a bit of a facelift, Joseph Wu's dramatic 55-metre origami light fixture still snakes across the ceiling and I was glad for it.
The sprawling space is divided into a long and sexy cocktail bar, a Champagne Lounge, The Garden room and the main dining area with an open kitchen. A musician sang soft-rock classics, but live piano music rose from the lounge at the bottom of the stairs in a power grab and the musical tussle created nothing but cacophony.
The food, however, shone. Chef Hector Laguna comes from Hawksworth, where he was senior sous chef. Previous to that, he was in Toronto at Lee Restaurant under Susur Lee and Nota Bene under David Lee — some of Canada's top culinary influencers.
Dinner starts with house-made fougasse on what looks like a slice of petrified wood (but is actually ceramic). Then we started with a luxurious house-made tagliatelle with morels, mushroom 'soil' with crisp notes from Piave fricos and dried mushroom chips ($19).
Pan-seared scallops ($20) came topped with guanciale (cured pork jowl) which, Laguna says, "melts from the heat of the scallops." Presentation-wise, it's a fussy dish with perhaps too much going on, but it showed his commitment to quality and the scallops were plumply delicious. Laguna sources most of his seafood from Organic Ocean and works closely with the seasons.
I ordered halibut with crab emulsion and spring veggies ($38) because halibut season is a short, tormenting tease. But what I got was seared sablefish with fermented vegetables, onion nage and puffed tapioca ($38), which suited me fine. It was the followup I was interested in. The server made a good recovery — she apologized sincerely and profusely and offered to exchange it (and when presenting the bill, she'd comped my glass of wine). The dish looked bright with garnishes of pickled and fresh veg, and petals and a cracker of puffed tapioca. The fish was saltier than I like (he brines it for 60 minutes to firm, tenderize and season), but, then again, he had a customer who had it for dinner one evening and returned the next day for lunch for another round. It was, however, a beautiful piece of fish.
My husband's herb-crusted lamb saddle with green garlic panisse, fresh fava beans, shallots and jus ($40) was gorgeous, the lamb still wobbly at the medium-rare stage.
I asked Laguna if he'd cooked it in a sous vide, then finished it stovetop, but he declared himself not a fan of sous vide. "It's just not the same. To me, I lose the opportunity to enhance the ingredient and make it better," he says.
He explained the Wagyu zabuton dish, something new to me. "It's a piece of meat right in the middle of the chuck, a perfect square about eight-by-eight inches. It's muscle, but it's not used, so it's tender and there's only two per cow," he says. The fact that it's from Wagyu beef makes it worthwhile for flavour and quality.
Intrigue amps-up the entertainment side of a meal and certainly dessert had me at 'carrot.' The candied-vegetable protagonist ($12) bent my mind into thinking it was indeed, dessert-worthy. It had a backup cast of sugared celery, carrot sorbet, poppyseed brittle and puffed wild rice.
A second dessert, Meyer lemon polenta cake ($12), was a small ring of cake with a support cast of angelica brûlé, apple and lemon buttermilk ice cream, brightened with scarlet flower petals. A nice, not-too-sweet end. I was thinking the bit player of angelica brûlé could be a rising star of its own.
The beverage team is strong with wine director Jill Spoor supporting sustainable, organic, biodynamic winemakers. Grant Sceney is creative beverage director and David Wolowidnyk (CinCin, West) is head bartender.