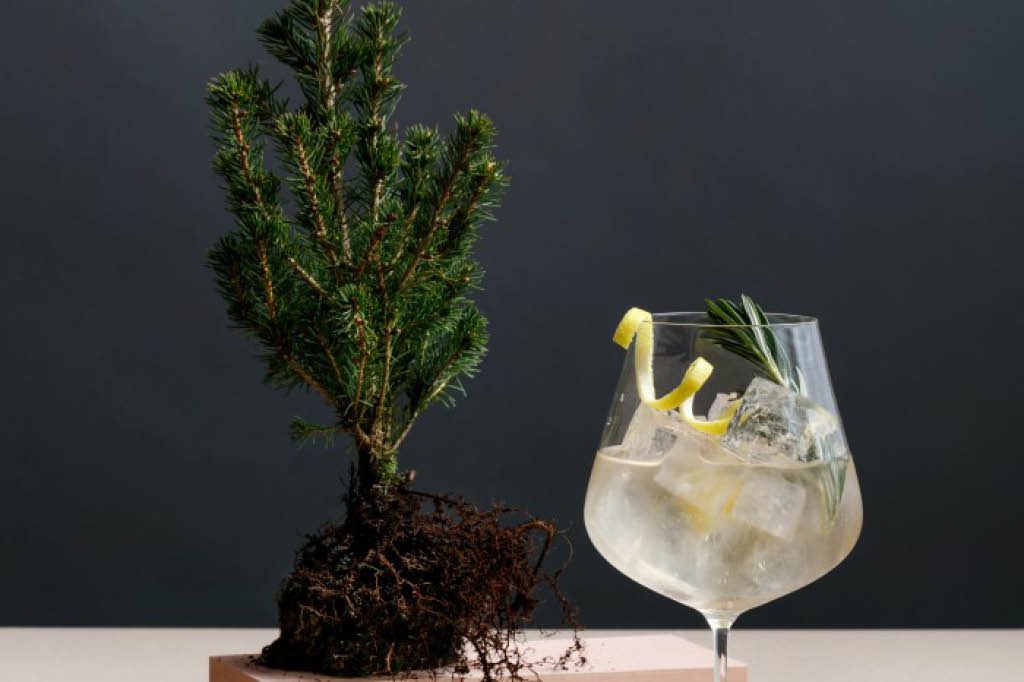 Yellow Pages
/ In Praise of Flora
It started with a concept: to create a restaurant with Vancouver's incredible natural beauty and flora in mind – one that would become a destination for both international and local guests. "We worked for two years on the vision for Botanist," says general manager Shon Jones-Parry. "We wanted both the food and wine programs to speak to B.C.'s strong sense of place: one that celebrates sustainability, organic, natural, foraging and plays of the scientific side of botany."
Located on the second level in the Fairmont Pacific Rim hotel, Botanist's decor matches its food philosophy. Showcased by four distinct sections – a dining room, cocktail bar and lab, indoor garden and a champagne lounge – the elegant casual eatery is bordered by floor-to-ceiling glass, limestone, whitewashed woods, ornate metalwork and planters filled with greenery indigenous to our province. There are more than 250 plants in Botanist, which provides some separation between each distinct section.
My philosophy aligns well with Botanist…it's about serving fresh, very honest food and treating ingredients with respect.– Hector Laguna, executive chef
Menu honours executive chef's roots
Executive chef Hector Laguna says that growing up on a farm in Veracruz, Mexico, where eating off the land is a way of life, really inspired the way he the way cooks and thinks about food at large. "We raised everything on our farm, including pigs and chickens," says Hector. "My philosophy aligns well with Botanist: it's about serving fresh, very honest food and treating ingredients with respect."
Those poignant connections to the land also played a significant role in sparking Hector's interest in food. A natural when it comes to cooking, he worked his way up at several top restaurants across North America. His big break came in 2007, when he moved to Miami and began working with mentor and renowned James Beard Award recipient, chef Michelle Bernsten, at Michy's. Hector moved to Vancouver in 2013 and soon became the senior sous chef at the much-touted Hawksworth Restaurant.
For Hector, highlighting terroir (the conditions in which food is grown or produced) on the menu isn't just taking the local trend to the next level. Rather, it's about "honing local into a flavour narrative that is at once simple yet complex." Each dish seems to connect to a deeper farm-to-fork connection. Whether it's the eatery's  root vegetable salad with fava, garbanzo, avocado, burrata (from the Okanagan) in a lemon vinaigrette, the exquisite herb-crusted lamb saddle or the fork-tender oven-roasted halibut with spring vegetables, Hector creates culinary masterpieces.
"The charred octopus with asparagus, cauliflower, kohlrabi and chorizo brings me back to Mexico," says Hector, when asked about his favourite dishes. "We braise it for a long time at a low temperature and then lightly grill it for a bit of smokiness."
Botany of the bar
Vancouver's cocktail and wine craze has many restaurants vying to present the most memorable beverage. Botanist took that one step further by featuring a boutique selection of sustainable, organic and bio-dynamic wines from around the world, as well as botanical cocktails, craft beers and champagnes.
Jill Spoor, Botanist's wine director, was tasked with coming up with a wine program that paid homage to the terroir concept. "As the restaurant's name reflects, I wanted to work with wineries that practiced ancient and holistic methods," says Jill. "I spent a year tasting and hand-selecting wines that best represented what we are trying to achieve here."
Botanist wants you to delight in the unexpected, with wines you won't likely see on any other eatery's menu.  "I wanted each wine to reflect a place, a true expression of its varietal," says Jill, adding that all the wines by the glass are exclusive to Botanist. Some of Jill's  treasures include the Matsu El Picaro, a 100 per cent Tempranillo from Toro, Spain, as well as a 2015 Alois Lageder Pinot Grigio from Italy and a Domaine Calot Morgon Cuvee Tradition from Beaujolais, France.
Botanist offers up the best of soil-driven food and drink in an atmosphere that is just as natural and real as its cuisine.