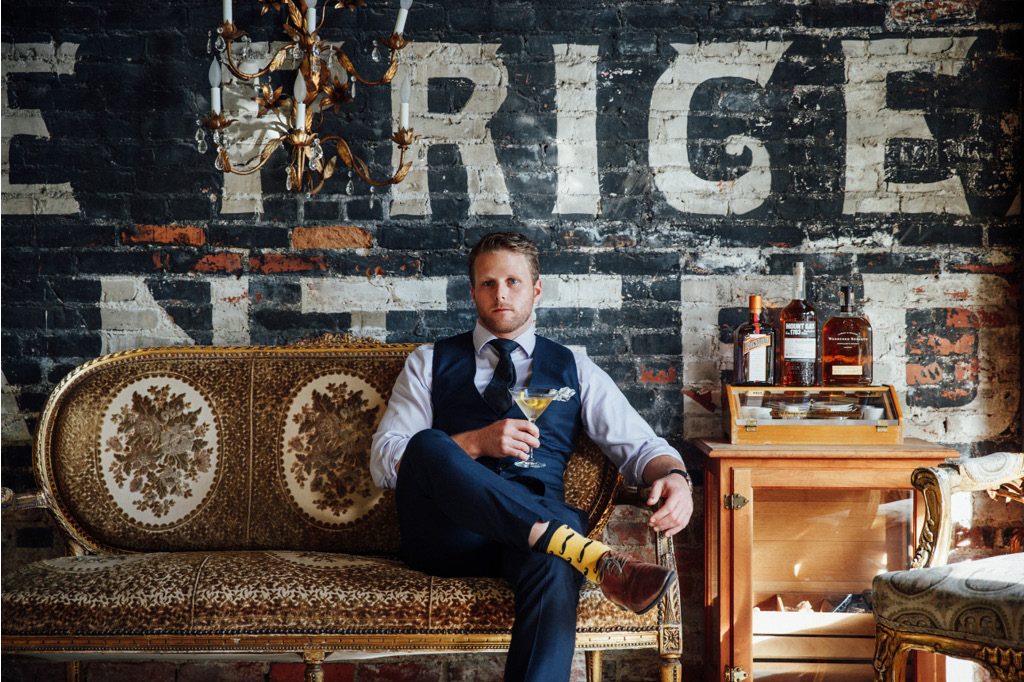 Departures
/ A Seat at the Bar: Jeff Savage & Grant Sceney
"In conversation with one of February's mixologists of the month

This month we spoke to Grant Sceney and Jeff Savage, two of the talents behind the bar at Botanist, located in Vancouver's Fairmont Hotel. First up was Jeff Savage, who shared his personal take on mixology below.

What is the most exciting trend in mixology right now?

I'm really excited about how bars around the world are embracing the natural environment around them and the community they exist in, and highlighting that in their cocktails. Whether it's using locally grown herbs, incorporating culturally significant ingredients or showcasing the artisans in your city, I'm all for it.

When I travel, I love the opportunity to try something that doesn't exist for me back home – seeing bars lean into what makes their city unique opens up new avenues for flavour combinations and ingredient usage that you may not have thought about before.

Can you take us through the creative process behind your new cocktail creations?

My drinks always begin with a concept – that is, what do I want the drink to feel like, what combinations am I interested in showcasing and ultimately where do I want the drink to take my guest. Every element in the cocktail is then based around the answers to these questions. To me, a good drink is balanced, engages all of your senses and takes your palate on a journey. At Botanist, my drinks focus on botanical elements found in the Pacific Northwest and aim to educate and excite our guests about the natural bounty around us.

What's the most unusual ingredient you have ever used in a drink?

My former chef Brayden Kozak at Three Boars is obsessed with McChicken sauce [a Canadian phenomenon], so he sat at my bar with a packet of the stuff and challenged me to make a cocktail with it. It ended up being some kind of flip; emulsifying the sauce with cognac, a high spice rye, amaro, egg, etc. To be honest we were both surprised at how good it was!

If you had to choose just one, what is the absolute can't miss cocktail on your menu right now?

Candy Cap Magic – it's a cocktail that never fails to put a smile on someone's face. It's one of our experimental cocktails that comes out of our lab, and its presentation is fantastic. We use dry ice to vector in scents of the forest, and the drink itself is a Manhattan-style cocktail using wild foraged candy cap mushrooms. It speaks perfectly to our identity and it's a real showstopper.

In just three words, how would you describe the experience at your bar?

Engaging, informative and enchanting.

Finally, let us in on an up-and-coming mixologist we should keep an eye out for.

Canada is a hotbed for talented and exciting bartenders, in regions that might not be on the radar. In Alberta, for example, there is a ton of great talent, particularly James Grant and his team at Wilfred's. On our team we recently promoted Regis Simard to Bartender, and I am continually impressed with his growth and excitement – he's got big things in his future.
Second up is Grant Sceney, who shared his personal take on mixology below.

What is the most exciting trend in mixology right now?

What I'm really excited to see is an overall push towards sustainability, in a way that has more longevity than just a trend. It's naturally focusing on the sustainability of the environment and the ingredients used – but also the "sustainability" of the staff and guests alike.

If bartenders are taking better care of themselves, it allows them to take better care of the guests. In an industry where bartenders' health has been a long concern – both mental and physical – it is now becoming a focus for bar and restaurant owners (and spirits brands). They are now offering yoga classes, bike rides, hikes and boxing classes, instead of the previously common ways to reward bartenders: throwing a party or just giving them free booze.

This has also transformed how owners run their bars. By offering more low alcohol or spirit-free cocktails, these options are now becoming commonly available and a focus on menus is now commonplace (rather than an afterthought) – which is fantastic to see.

Can you take us through the process behind your new cocktail creations?

The first step is to figure out what is the purpose – what do I want this drink to achieve and what journey do I want to take the guest on? What balance does the menu need, is it intriguing, does it represent the bar to the highest level.

I will often pick the name and concept, before looking at ingredients and working backwards from there. We look at using interesting ingredients that highlight the region and surprise guests with things that are "in the backyard" that they never knew about – this also has a lot of regulars who come back to see where we can take them next.

What's the most unusual ingredient you have ever used in a drink?

Vegemite. I'm an Aussie living in Canada, and got one of my friends to bring me back some when they returned from a trip home; they dropped it off while I was at work.

The shift that day was kind of slow and one of the other bartenders was expressing how much he disliked it – so he naturally then challenged me to make a drink with it. Giving its undeniable savoury and salty element I went with a riff on a Caeser (Canada's version of the Bloody Mary).

I was quite happy with how it turned out – I even served it with a bit of Vegemite toast as the garnish. My colleague was adamant however that Vegemite shouldn't ever be consumed, so we agreed to disagree.

If you had to choose just one, what is the absolute can't miss cocktail on your menu right now?

Smoke on the water – it's quite the cocktail to entice all the senses; visually impressive coupled with an intense aroma and taste. It's the latest addition to our lab cocktails, which are all inspired by the four elements (wind, water, fire and earth).

In this case the cocktail takes inspiration from fire – it's presented in a box filled with cedar smoke and the warm glow of a candle. The drink itself is comprised of coconut oil-washed aged rum, mezcal, birch water, pineapple caramel and charred lemon. It is quite the journey.

In just three words, how would you describe the experience at your bar?

Don't. Stop. Believin'. Or 'bartenders creative playground'.

Finally, let us in on an up-and-coming mixologist we should keep an eye out for.

It used to be only the major cities where you'd find young talent but now exciting upcoming names are spread all across the country. Recently I got to meet young Will Irvine from Halifax – his energy was fantastic. He currently works under two of my good friends (and talented seasoned bartenders) Jenner Cormier and Cooper Tardival.

We also have two young bartenders Charles and Sam, both currently going through our junior bartender program and showing some good early promise."